UN passed sanctions against Iran, Lebanon abstains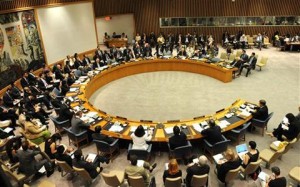 The United Nations Security Council today passed sanctions against Iran over its uranium enrichment program, the Wall Street Journal reported–the resolution passed by a 12-2 vote, with Brazil and Turkey opposed and Lebanon abstaining.
Meanwhile, reports indicate Iran is readying two ships of its own to challenge Israel's Gaza blockade, perhaps as a means of strengthening its hand in bargaining with the United States on a range of issues, including its nuclear program.
The sanctions resolution passed by the UN Security Council meeting in New York includes travel bans and financial restrictions against people and groups linked to Iran's nuclear and ballistic missile activities, including the Revolutionary Guard Corps and the Islamic Republic of Iran Shipping Lines, according to Voice of America–it also expands a UN arms embargo against Tehran and targets the Iranian banking sector.
Israel said on Monday it would not let Iranian ships sail to Gaza after the Iranian Red Crescent announced it would send two vessels to the region in the coming week, according to the Jerusalem Post.
"If we didn't let an Irish ship reach Gaza, we are certainly not going to let Iranian ships pass," that newspaper quoted an Israeli diplomatic official as saying.
What we are seeing is an attempt by Iran to dispatch two aid ships under their flag to Gaza, and what we are hearing from our sources is that this is an attempt to provoke a confrontation between those ships and Israeli naval forces in order to stir up another international controversy from which the Iranians could potentially reap a whole lot of benefit," said Karmran Bokhari of Stratfor, a global intelligence website.
Geopolitically, Iran is keen to be viewed as a champion of Palestinian rights, a role Turkey seems to be usurping, according to Mr. Bokhari, but this situation could become perilous quickly.
"From the Israeli point of view, Turkish-led flotillas are one thing, but ships being dispatched by the Iranians are a whole different ballgame," he said. "The Israelis will easily be able to be far more aggressive because Iran doesn't have the kind of international clout Turkey has."
Conversely, he said:
" In an exchange of gunfire, Iran can create havoc in the sense that it can react very sharply, perhaps even deploying its proxies in the region to take action against Israel."
The Christian Science Monitor reports Iran's Revolutionary Guard has offered to escort the flotilla.
Supreme religious leader Ayatollah Ali Khamenei's representative to the Revolutionary Guard Navy said Iran was duty-bound to provide military escort, according to the Christian Science Monitor–but Iranian President Ahmadinejad wasn't quite so sure.
In response to a direct question from the Monitor about the willingness to provide military escort, Ahmadinejad replied vaguely:
"With regard to sending of aid to Gaza, we would certainly take into consideration all aspects of the questions, and then we will take the right decision."
Mr. Bokhari, a Middle East analyst at Stratfor, maintains Iran wants to provoke an incident primarily to gain leverage in negotiations with the United States.
"The last thing the United States wants to see is a confrontation between Israel and Iran at a time when Israel and Turkey are increasingly moving into a tense relationship," Mr. Bokhari said.
"That creates a new dynamic that detracts from the nuclear issue, and provides Iran with a window of opportunity in which it could steer negotiations with the United States in its favor."
Another entry at Stratfor provides additional insight into Iranian behavior:
Hezbollah has instructed its media outlets to play down the 'Gaza freedom flotilla' in order not to highlight Turkey's role, Stratfor claims its sources reported on June 8.
The order is a reflection of Iran being disturbed by the regional emergence of Turkey and the attention put on Ankara in the wake of the flotilla crisis, Stratfor's sources reportedly said.
Meanwhile, in a related development, members of Israel's National Student Union intend to sail toward Turkey in a 'reverse flotilla' to provide humanitarian aid and 'to show that Turkey has its own issues when it comes to the treatment of its minorities,' The Jerusalem Post reported June 8, citing Student Union Chairman Boaz Torporovsky.
Torporovsky reportedly told the Jerusalem Post their plan is to deliver humanitarian assistance to the Kurds of Turkey.