Hariri met Nasrallah ahead of Mid East tour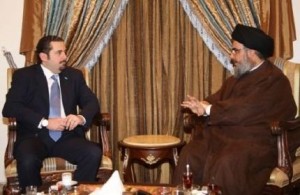 Lebanese Prime Minister Saad Hariri and Hezbollah chief Sheikh Hassan Nasrallah held overnight talks ahead of Hariri's visit to Jordan and Egypt on Tuesday, according to the premier's office.
"The two men discussed the latest domestic, regional and international developments," the office said in a statement.
The meeting was attended by Nasrallah's political aide Hussein Khalil as well as Hariri's adviser Mustafa Nasser and his office manager Nader Hariri.
The meeting was Hariri's second with the pro-Iranian leader of the militant Shiite movement since he became premier last year. It took place at Nasrallah's hideout in Dhahia a Beirut southern suburbs and a Hezbollah stronghold.
The talks came ahead of the premier's regional tour aimed at discussing the situation in the region in the wake of last week's Israeli attack on an aid flotilla bound for the blockaded Gaza Strip.
Hariri was to travel later Tuesday to Cairo, where he would meet Egypt's President Hosny Mubarak. He was also expected to travel to Istanbul for talks with Turkish officials two days later.