UK's Independent commended for Gaza aid coverage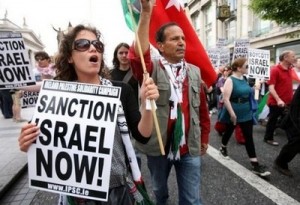 Arab Media Watch commends the Independent for its reporting and analysis of Israel's propaganda campaign following its attack on the Gaza aid flotilla. When looking at the British media in general, the newspaper is almost alone in doing so, publishing no less than six relevant articles since the attack on 31 May.
The authors of such articles include correspondents Catrina Stewart, Robert Fisk, Patrick Cockburn and Donald Macintyre, as well as columnists Johann Hari and Mark Steel.
From the outset, the Israeli authorities have tried to control the flow of news about the attack in a variety of ways, including:
– Detaining, injuring and killing journalists and eye-witnesses.
– Destroying and confiscating phones, video footage and photographic equipment. "Israel has confiscated journalistic material and then manipulated it to serve its interests," said Mohamed Abdel Dayem, Middle East and North Africa Program Coordinator for the Committee to Protect Journalists. "It must cease this practice without delay, and return all property seized from journalists who were covering this legitimate news event."
Aidan White, General Secretary of the International Federation of Journalists, added: "This is shocking disregard for the rights of journalists. The confiscation and then unauthorized use of journalists' footage shows the contempt that the Israeli authorities have for journalism."
– Showing old photographs and edited footage, the use of which has been described as a "clear violation of journalist ethics and unacceptable" by the Foreign Press Association in Israel, which also warned news outlets to "treat the material with appropriate caution."
– Jamming satellite signals.
– Keeping the media away from the flotilla and its passengers.
Such blatant attempts at control of news coverage are nothing new. The same strategy was carried out during Israel's last invasion of Gaza. It was only after its media ban was lifted that reporters were able to enter Gaza and rebut Israeli claims about what had happened.
Sadly, it seems that lessons have not been learnt. As Israel has tried once again to blatantly limit the media's ability to report a major incident of international proportions, it is strange and deeply disappointing that apart from the Independent, the British media has generally been so quiet about it.
AMW urges the media to focus on this crucial issue – not to do so is a dereliction of its duty to the public.
"Journalists on duty should be left out of any confrontation and should have the full freedom to cover the events in a professional way," said Israel's Journalists Association in Jerusalem.
"The Israeli authorities must not play cat and mouse with professional journalists who are doing their job, not just for the company they serve but in the service of a worldwide audience…The rights of journalists in conflict zones have been particularly highlighted by the United Nations and members states cannot stand by when one state acts in a reckless and dangerous manner," said Aidan White, General Secretary, International Federation of Journalists.
Relevant extracts of the aforementioned Independent articles are available here.
Photo: Activists take part in a protest agianst Israel in Dublin to condemn the attack against the freedom flotilla by Israeli troops. Tens of thousands protested across Europe Saturday against the killing of activists during a botched raid on an aid fleet, as Israel peacefully boarded another ship trying to defy its blockade of Gaza.