Hassan:Our credibility is fundamental, we do not manipulate numbers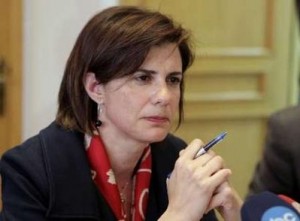 Lebanon's Finance Minister Rayya al-Hassan refuted on Monday statements that have been attributed to her that she manipulated numbers.
Hassan stressed: "Our credibility is a fundamental matter, and we do not manipulate numbers, not in issues that concern state institutions or the citizens."
She told the Central News Agency ( al Markaziayh) that Telecommunications Minister Charbel Nahhas had implied in the latest cabinet session that there had been a manipulation of numbers, upon which a minister replied and refuted the allegations.
"I have never stated that we have manipulated numbers, but on the contrary, I have denied such claims," she added.
Addressing article five of the plan that grants the government the right to take out loans, al-Hassan said: "Talk that loans limit the general financial flexibility are statements that cannot be accepted by any finance minister in any way whatsoever."
The minister noted: "Pre-financing has never been illegal, but the laws allow it."
She revealed that she will be holding a meeting on Tuesday with Energy Minister Jebran Bassil saying: "I am not opposed to the construction of dams and I cannot be against such a plan, I realize its importance and Lebanon's need for it."
"But we are proposing the possibility of funding the plan outside the state budget because we cannot support the electricity field and the dams. This should not prevent us from following up on this issue based on studies conducted by the Energy Minister," stated al-Hassan.