Sfeir: Lebanon only needs one army, not two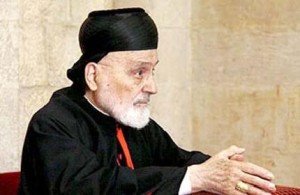 Maronite Patriarch Nasrallah Sfeir traveled to to Cyprus on Thursday to meet with the Lebanese community and welcome Pope Benedict XVI in Nicosia. The Christian spiritual leader made a clear reference to Hezbollah in his departing statement, "We support one regular army and it is unacceptable to have two armies in one country."
A delegation of Maronite Bishops will accompany Sfeir to Cyprus.
In Nicosia, Benedict will meet with leaders from Catholic churches in the region to draw up proposals for a major meeting of Middle Eastern bishops at the Vatican in October.
Benedict on Sunday said he was "making an apostolic journey to Cyprus, to meet and pray with the Catholic and Orthodox faithful there."
Aside from divisions between Greeks and ethnic Turks, there are problems between Cypriot Catholics and Orthodox Christians, who are dominant in the south.
Some hardline Orthodox clerics, who view the pope as a heretic, say Benedict should stay in Rome to avoid provoking the island's 800,000 Orthodox.
Naharnet