Hezbollah: Israels actions will require serious measures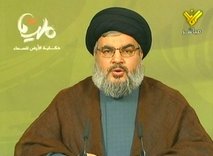 Hezbollah leader Hassan Nasrallah stressed on Thursday that Israel's attack on the Freedom Fleet has "very important connotations". Nasrallah called on all the Lebanese, Palestinians, and Arabs in Lebanon to participate in a massive rally on Friday at 8:30 pm at the Raya stadium in a show of support for and pride in the besieged Palestinian people in Gaza and the heroes of the fleet.
Nasrallah said at a gathering commemorating the 21st anniversary of the death of the Iranian Islamic Republic's founder, Ayatollah Ruhollah Khomeini, that the scenes from the Freedom Fleet "are those of courage, honesty, and sacrifice" by all those on board.
"What happened with the 'Freedom Fleet'… necessitates serious stances and measures," he added.
Hezbollah number one said he would "announce the position… we should all take and work for" during Friday's rally.
Naharnet