Hariri asks UN for evidence of Hezbollah arms smuggling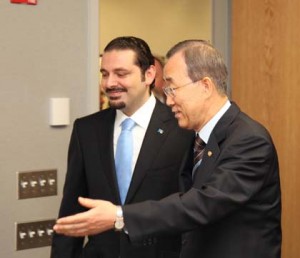 Prime Minister Saad Hariri stressed during his meeting in New York with U.N. Secretary-General Ban Ki-moon the need to put an end to Israeli air, sea and land violations of the Lebanese sovereignty. Hariri also reiterated demands for evidence on the smuggling of weapons across the border into Lebanon.
Ban expressed concern over violations of U.N. Security Council Resolution 1701, specifically on the issue of "illegal arms transfers to Hizbullah," Al-Hayat said. Ban also touched on the issue of the Special Tribunal for Lebanon, stressing the importance of the principle of "no impunity."
Hariri held talks with Ban Wednesday prior to the U.N. Security Council meeting.
A member of the Lebanese delegation accompanying Hariri on his 5-day U.S. visit, anonymously spoke with Al-Hayat newspaper.
Naharnet