Aoun attacks Geagea for exposing Hezbollah and Lebanon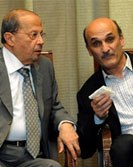 Free Patriotic Movement leader Michel Aoun criticized fellow Christian leader Samir Geagea in reaction to President Michel Suleiman's latest statement on Hezbollah.
"These statements, indeed, expose Lebanon and give the enemy the right to do the work that is being done," Aoun said in remarks published by the daily As-Safir on Friday in reference to remarks by Geagea without naming him.
"Lebanon is already exposed, and Hezbollah is trying to build a deterrent force to repel any attack on Lebanon," he explained.
Aoun said Hezbollah is aware that the group would suffer big losses in the event it initiated any attack on Israel.
Meanwhile, LF MP Antoine Zahra reported to the media that, "The Lebanese state and people are not responsible for Iran's problem with the international community."
Lebanese Forces leader Samir Geagea on Tuesday criticized President Michel Suleiman, saying his latest statement regarding the defense strategy is in contradiction with the inaugural speech.
"President Michel Suleiman's position on the defense strategy issue represents the stance of one group of Lebanese and not everybody's view," Geagea said.
He believed a consensus President "should not speak on behalf of a group of Lebanese and adopt its position."
Suleiman should have expressed "the opinion of the vast majority of citizens," Geagea thought.
Naharnet