Geagea: Hezbollah is forcing Lebanon to war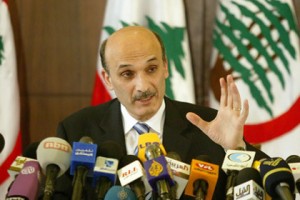 Lebanese Forces leader Samir Geagea accused Hezbollah on Thursday of shifting Lebanon from its "neutral stance" to the defense line of Iran without the will of its people, government and parliament.
"The region is unstable and boiling and Hezbollah is putting Lebanon in a hot oil cooking pot," Geagea said during a press conference.
The Hezbollah leader's remarks are "rejected and totally unacceptable," Geagea told reporters.
In his Tuesday speech marking Liberation Day, Nasrallah threatened to bomb Israeli ships if Tel Aviv attacks the Lebanese coastline.
Geagea refuted Nasrallah's remarks "that anyone who does not support the notion that the Lebanese army, people and Resistance are all legitimate means of facing the recurrent Israeli threats – is intentionally exposing Lebanon [to war]."
"As long as Hezbollah pursues this [conduct], it drags Lebanon towards confrontation."
The LF leader also said that he "did not – and will not – attack President [Michel Suleiman]."
"Does every person who disagrees with Sayyed Nasrallah want to expose Lebanon to the enemy and become a conspirator?" he wondered.
The LF leader also defended himself against critics who accused him of verbally attacking President Michel Suleiman when he said the head of state was making contradictory remarks.
"I didn't attack the president. He has constructive stances but we don't agree with him in the issue of Hizbullah, its arms and strategy," Geagea stressed.
Lebanese Forces member MP Antoine Zahra noted: "There are those who are trying to imply that there is a problem between Suleiman and Geagea" and are aiming create tension between them, but these attempts will fail.
He said that Suleiman's recent statements differ from what he said during his presidential address, where he stressed Lebanon's right to defend itself through all means, including resistance.
"What we oppose is his talk of the existence of the army, people, and the Resistance" where the latter is trying to make the people and army abandon their national duty, he stated.
Zahra stressed: "We are a main political party in the country and we are in agreement over the government's policy except the one concerning the Resistance that contradicts with the foundations of building the state."
"The state in Lebanon lacks sovereignty because there are those who issue threats in its name," he added.
Zahra said that while Hariri called for dialogue and peace in his Wednesday address to the UN Security Council, "someone is raising the voice of war."
Naharnet & Now Lebanon