Walid Jumblatt in Syria on an unannounced visit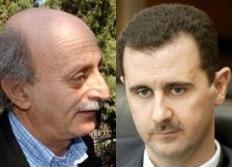 Walid Jumblatt arrived in Damascus at 4:30pm on Thursday on an unannounced visit.
According to New TV, the leader of the Progressive Socialist Party arrived as the head of Intelligence of Lebanon's Internal Security Forces, Col. Wissam Al-Hasan, left the Syrian capital briefly thereafter. Al-Hasan is closely tied politically to Prime Minister Saad Hariri.
Public Works and Transport Minister Ghazi Aridi is expected to visit to Syria next week.