Hariri to Obama: The time is now for peace with Israel
The Lebanese prime minister tells US president that never before have Arabs been so ready for peace with Israel, but they are frustrated and skeptical about how the situation is developing.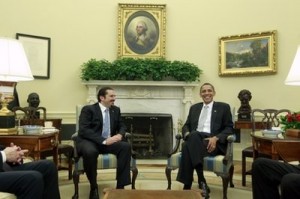 The "clock is ticking" on Middle East peace, Lebanese Prime Minister Hariri told US President Obama. However, the Arab world has never before been so ready for an end of hostilities with Israel, he said. Yet, there is "pervasive frustration and skepticism" in the Muslim world regarding the issue. This, briefly, is what Hariri told Obama during their meeting in the Oval Office yesterday. The Lebanese leader warned that failure to reach an agreement would lead to more violence and radicalism in the region.
Hariri's first official visit to the United States following the formation of a government of national unity was centered on the prospects of peace and the threats caused by Israel's accusations against Syria that it plans to supply Hizbollah with long-range Scud missiles capable of hitting major Israeli cities.
For his part, the US president insisted on "the threat posed by the transfer of weapons into Lebanon in violation of UNSCR 1701," which calls for the disarmament of the Shia Muslim group.
Hariri denied Israel's accusations, whilst his government has said it backs the right of the guerrilla group to keep its weapons to deter Israeli attacks.
"We didn't talk about the Scuds, our main topic was peace," Hariri said, insisting on the right of "Palestinians to have their (independent) state with Jerusalem as capital." With this in mind, Hariri urged the Obama administration to redouble its efforts to get Israel to accept a peace accord.
Sources close to the Lebanese delegation, cited by Orient Le Jour, said, "What was achieved this day can be summarized in five fundamental points. First, US leaders told Hariri that the US was committed to advance the peace process through dialogue and negotiations. They renewed their commitment to respect and preserve Lebanon's sovereignty and independence, which would not be sacrificed to any regional development." Moreover, they reasserted that the "application of international resolutions as the sine qua non condition to reach a just and comprehensive peace." These "are the basis on which all problems can be settled, most notably the issue of extra-legal weapons. Finally and crucial last point," both parties "reject violence, which cannot lead to any [positive] result."
Obama and Hariri also discussed US-led international efforts to isolate Iran over its disputed nuclear program, officials said.
Lebanon holds the rotating presidency of the UN Security Council through 31 May. Given the presence of pro-Iranian Hizbollah in the Lebanese government, diplomatic sources said Beirut quietly asked the permanent members of the Security Council—United Kingdom, France, Russia, China and the United States—not to push for a vote on a new Iran sanctions resolution whilst it held the presidency.