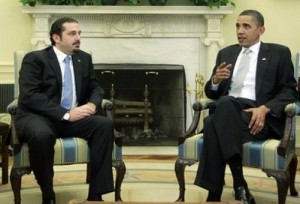 Lebanese prime minister Saad Hariri addressed the Lebanese community during a reception in Washington DC. He said : "If anyone can make peace in the Middle East it is President Obama".
Hariri had a prepared speech but decided to talk from the heart instead. He told the community "Lebanon needs you as much as you need Lebanon".
He started his speech in English and then switched to Arabic .
Hariri said Lebanon went through a lot of turbulence during the past five years " I lost my dad and many friends during this period " then added " but Lebanon has been peaceful and stable during the past 2 years. We now have a unity government , we may not all agree but this is what democracy is all about ".
Hariri said the" Lebanese economy is growing again , the tourism is on the increase and so is the foreign investment in Lebanon. He said last year we had a million tourists but this year we expect a lot more."
Hariri stressed the importance of the relaunched negotiations in the region in order to reach a just and comprehensive peace, based on the Arab peace initiative.
President Barack Obama met with Lebanon's Prime Minister Saad Hariri in the Oval Office of the White House in Washington this afternoon. They were later joined by the Lebanese ministerial delegation .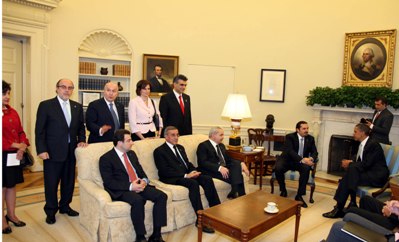 After his meeting with Obama , Hariri met with US envoy George Mitchell to discuss peace in the region.
Prior to his meeting with Obama , Hariri met with Jeffrey Feltman former US ambassador to Lebanon and the assistant secretary of state for Near East affairs.
Hariri started Monday his official visit to Washington by a meeting with U.S. Secretary of Transport Ray LaHoud , a Lebanese-American at his residence at the Four Seasons hotel in the nation's capital.
Hariri then visited the International Monetary Fund (IMF) headquarters in Washington DC, where he met with IMF Managing Director, Dominique Strauss-Khan and IMF high officials.
Hariri also met an influential US house of representative member Nita Lowey, from the State of New York.
This error message is only visible to WordPress admins
Error: No connected account.
Please go to the Instagram Feed settings page to connect an account.