Hariri met Obama at the white House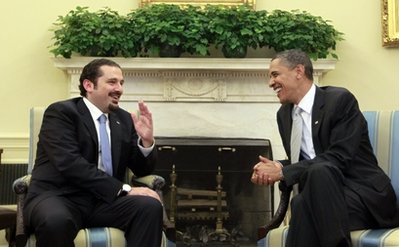 President Barack Obama met with Lebanon's Prime Minister Saad Hariri in the Oval Office of the White House in Washington on Monday, May 24, 2010.
Update: Hariri said after the meeting.
"I thanked President Obama for supporting Lebanon's sovereignty … I also stressed during the meeting the need to respect the implementation of U.N. Security Council Resolution 1701 and to work on enabling Lebanon to extend its authority over the Shabaa Farms and all occupied territory."
"The main topic of discussion during my meeting with President Obama was peace in the region, because things in the region won't be worked out except by peace and the U.S. must work with us to find a solution in the region. Arabs are ready and they expressed their will in Madrid; and Arabs extended their hands for peace and there is no better time for peace than now, and for the Palestinians to have their (independent) state with Jerusalem as Capital," Hariri added.
Hariri stressed the importance of the relaunched negotiations in the region in order to reach a just and comprehensive peace, clarifying that his talks with Obama did not tackle the Scud hullabaloo.
"We didn't talk about the Scuds, our main topic was peace."
"Let us be realistic: is there anything but peace that can make us reach a secure region?" Hariri said.
Earlier today Hariri met Top US officials to discuss Arab-Israeli peace, Iran's nuclear plans, and Syria's alleged transfer of arms to Lebanon's Hezbollah, US officials said.
Jeffrey Feltman former US ambassador to Lebanon and the assistant secretary of state for Near East affairs, met for about an hour with Hariri prior to his arrival at the White House for talks with Obama.
"We discussed the key role of Lebanon in the long-term effort to build a lasting, comprehensive peace in the Middle East," Feltman said, reading a statement afterward.
"Realizing this goal will help the region move forward and enjoy greater prosperity and stability. The importance of achieving this is clear to everyone," Feltman told reporters.
A senior State Department official also told reporters on condition of anonymity that Feltman and Hariri talked about "the importance of the upcoming vote on the resolution" for new UN Security Council sanctions against Iran.
Lebanon, which has members from the pro-Iranian Hezbollah as part of the government, is perceived to be one of the countries on the 15-member UN Security Council opposed to new sanctions against Iran.
The others are Turkey and Brazil.
Feltman alluded to concerns about the risk of a new war between Israel and Lebanon's Hezbollah when he stressed the need to carry out resolutions relating to the border area.
"We discussed the need for full implementation of all relevant Security Council Resolutions, including resolutions 1559, 1680, and 1701, as well as the need for continued international support for UNIFIL," Feltman said.
UNIFIL has some 13,000 troops from various countries stationed in southern Lebanon.
The senior US official said Feltman discussed with Hariri allegations that Syria was transferring missiles to Hezbollah in violation of UN Security Council resolution 1701.
"You can take that as a yes," he said, when asked to confirm the arms shipment allegations were discussed.
Hariri started Monday his official visit to Washington by a meeting with U.S. Secretary of Transport Ray LaHoud , a Lebanese-American at his residence at the Four Seasons hotel in the nation's capital.
Hariri then visited the International Monetary Fund (IMF) headquarters in Washington DC, where he met with IMF Managing Director, Dominique Strauss-Khan and IMF high officials.
Hariri also met an influential US house of representative member Nita Lowey, from the State of New York