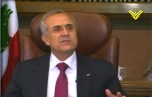 Lebanese President Michel Suleiman told Hezbollah's Al Manar TV during an interview on Monday that the deployment of international peace-keepers to monitor the Syrian-Lebanese border is not acceptable and will not happen due to the special ties between Lebanon and Syria.
Both countries agreed in 2008 to fight terrorism across their borders, he added.
According to observers the Lebanese Syrian borders are very porous pointing to the fact that all the arms coming to Hezbollah and the Palestinian militants are being smuggled through the Syrian borders in Lebanon.
Lebanese Syrian borders have never been demarcated due to Syria's objections. Recently it was reported that Syria has agreed to border demarcation but with some conditions . It is not clear why the president made the statement ( during PM Saad Hariri's visit to Washington DC) considering the fact that monitoring the border with Syria is one of the requirements of UN SCR 1701.