Nigerian kidnappers released the four Lebanese hostages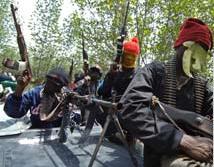 Nigerian kidnappers on Saturday released four Lebanese seized last week in the country's oil-rich south, a foreign ministry official in Beirut said.
"Lebanon's consul to Nigeria, Shawki Bou Nassar, today informed us that all four Lebanese nationals were freed in the early morning," the official told AFP.
"We will have more information when they arrive at the embassy."
Gunmen sporting military uniforms kidnapped the four on May 15 in an attack that left a soldier and a gang member dead.
The four were employed by the Stemco construction firm and two of them were senior managers.
They were seized at Ikot Ekpene in Akwa Ibom, one of Nigeria's nine oil-producing states located near Aba, the capital of Abia state.
Akwa Ibom neighbours Rivers state, the hub of the restive oil-producing Niger Delta region, and Abia state which has this year recently recorded the most kidnappings.
Hundreds of foreigners and locals have been kidnapped in recent years in Nigeria, most of them in the Niger Delta.
Initially, oil workers in the region were targeted for kidnapping but other expatriates and local politicians or their relatives have been increasingly targeted.
Nigerian kidnappers free Lebanese hostages: Beirut
Kidnapping for ransom occurs frequently in Nigeria's southern oil hub.