German FM: Peace in ME is important for the entire world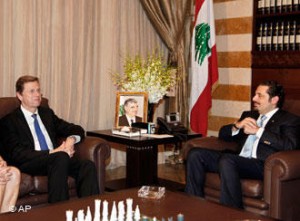 German Foreign Minister Guido Westerwelle visited Lebanon on Saturday as part of his three-day tour of the Middle East.
In Lebanon he visited the 240 German soldiers stationed on the Lebanese coast.
The soldiers are part of the United Nations Interim Force in Lebanon (UNIFIL), which is charged with preventing weapons smuggling by Hezbollah. The international mission has run in its current capacity since 2006, and German troops are scheduled to leave at the end of June.
Westerwelle held a meeting with Lebanese Prime Minister Saad Hariri in Beirut. Following his meeting , he told reporters that peace in the Middle East is important for the entire world, not just to those in the region.
"Conflicts nowadays are international, and that is why we feel it is our responsibility to support stability and peace," said Westerwelle.
During his talks with Westerwelle, Hariri made it clear that he hoped the UNIFIL mission would be extended. He added that security, peace and stability in the region were in the best interests of Germany.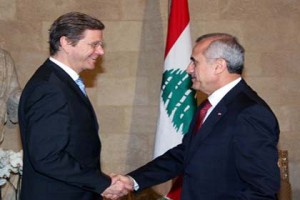 Westerwelle also met with Lebanese president Michel Suleiman at the Baabda palace . The president thanked Westerwelle for his country's contributions to the naval unit in the United Nations Interim Force in Lebanon (UNIFIL), and its efforts in monitoring the Lebanese border.
The German foreign minister voiced his country's satisfaction with the calm on the political, economic, and security fields in Lebanon, saying that Germany is prepared to continue its cooperation with Lebanon in various areas, such as economic, cultural, and educational ones.
Peaceful resolution
Later on Saturday, Westerwelle travels to Cairo to meet with the General Secretary of the Arab League, Amr Moussa, as well as the Egyptian Foreign Minister Ahmed Aboul Gheit. His final visits are to Jordan and Syria on Sunday before his return to Berlin on Monday.
A peaceful resolution to the conflict between Israel and the Palestinians will be an important topic of discussion on the trip. Westerwelle visited Israel and the Palestinian territories shortly after taking office last fall.
The trip is designed to coincide with Chancellor Angela Merkel's upcoming trip to the Arabian Peninsula, according to diplomatic officials.