Hariri: Israeli drills run counter to current ME peace efforts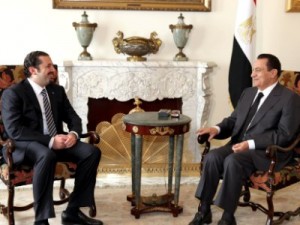 Lebanon's Prime Minister Saad Hariri slammed Israel's expected military exercises on Sunday and said they run counter to current Middle East peace efforts.
"Israel has to go to the negotiating table in order to achieve peace. To launch military exercises at such a time runs counter to peace efforts," Hariri told reporters in Cairo after a meeting with Egypt's President Hosni Mubarak.
"How can you launch peace negotiations with the Palestinians while holding military maneuvers?" the PM questioned.
Hariri's remarks come just a day before he is set to travel to Washington to meet with US President Barack Obama amid fears of a new conflict between Israel and Lebanon.
Speaking to the press Saturday, Hariri also urged the international community, particularly the US, to put pressure on Israel to achieve "a just peace."
Analysts say the PM will likely seek assurances from the US during his visit next week that it will use its influence with Israel to ease mounting regional tensions over Israeli claims that Syria is supplying Hezbollah with sophisticated weaponry in anticipation of a war.
Hariri's trip to Egypt is part of a Middle East tour during which he visited Syria, Saudi Arabia, Jordan. He is set to hold talks with U.S. President Barack Obama on Monday
Israeli Deputy Defense Minister Matan Vilnai said on Friday the drills have no bearing on the state's present relations with its northern neighbors, Lebanon and Syria.
The US House of Representatives last Thursday overwhelmingly backed President Barack Obama's plans to help Israel deploy an anti-missile system.
By a 410-4 margin, lawmakers endorsed Obama's plan to give Israel 205 million dollars for its production of a short-range rocket defense system called "Iron Dome."
Hezbollah
Hezbollah mobilized thousands of fighters in southern Lebanon on Friday in response to the week-long Israeli military exercises , an official from the Shiite group said.
"The Hezbollah fighters have (been instructed) to be completely ready to confront Israeli maneuvers on Sunday," Nabil Qaouq told AFP
"Thousands of our fighters will not go to the polls (municipal elections scheduled for this Sunday) and will be prepared from today" for any eventuality, he added.
"In the event of any new attack on Lebanon, the Israelis will not find anywhere in Palestine to hide," he said AFP