North Korea threatens 'all-out war'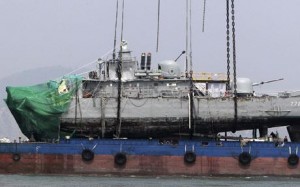 In the most serious attack for over 20 years, a North Korean torpedo was found to be responsible for the sinking of the Cheonan, a 300-ft South Korean warship, which sank on March 26 with the loss of 46 lives.
An official report, carried out by South Korean investigators together with teams from the United States, Britain, Australia and Sweden, said the evidence pointed "overwhelmingly to the conclusion that the torpedo was fired by a North Korean submarine." It added: "There is no other plausible explanation."
South Korea vowed "resolute countermeasures" against the North and is likely to appeal to the United Nations for further sanctions on the rogue state.
Barack Obama immediately offered his "strong and unequivocal" support to Lee Myung-bak, his South Korean counterpart. "This attack constitutes a challenge to international peace and security," the White House said.
Britain, Japan and Australia all joined the chorus of condemnation.
William Hague, the British Foreign secretary, said North Korea had a "total indifference to human life and international obligations". He said Britain was working on an "appropriate multilateral response to this callous act".
Robert Gibbs, the White House spokesman, said: "This act of aggression is one more instance of North Korea's unacceptable behaviour and defiance of international law…. Such unacceptable behaviour only deepens North Korea's isolation."
He said the attack "constitutes a challenge to international peace and security".
However, North Korea strongly denied responsibility for the attack, calling the investigation a "fabrication orchestrated by a group of traitors". It said it would "promptly" react to any retaliation and further sanctions with "various forms of tough measures including an all-out war". In recent weeks, North Korea has begun massing more troops on the border with the South.
China, the last major ally of Pyongyang, gave a cautious and lukewarm response, saying that all parties should "remain calm" and that it would conduct its own "assessment" of the findings. Without China's support at the UN Security Council, North Korea is likely to escape punishment.
"China is not directly involved, so it should not take a stance on either side or express views on the incident," said Zhang Liangui, a North Korean expert at the Central Party School, where Communist Party leaders are trained.
"South Korea's submission of its report to the UN will clearly force China into making a stance and this will be a challenge. This will be handled by the Foreign ministry, but my view is that China, in accordance with its rising status as a major country, should not go against the rest of the world, but should consider its interests in line with the majority," he added.
In Seoul, the long weeks of mourning since the attack and the personal stories of the young men who lost their lives have deepened the sense of outrage, piling pressure on the government not to allow the lost lives to pass unavenged.
However, military retaliation against North Korea seems to have already been ruled out. "Nobody wants a war on the Korean peninsula and the truth is that it is not easy to take revenge after the event," said Choi Jong-min, whose brother-in-law, Petty Officer First Class Jo Jin-young, was among the dead.
"Military reprisals should have been taken there and then [at the time of the sinking], or not at all," he added.
South Korea has called an emergency meeting of its National Security Council to discuss its options. However, experts said that most of the punitive actions on offer stand to hurt Seoul at least as much as Pyongyang.
"There really are few good options out there for South Korea," said Daniel Pinkston, a North Korea expert at the International Crisis Group. "They can go to the UN, but in reality China is very unlikely to back serious economic measures against the North which is already in economic crisis.
"Anything too drastic, such as military retaliation or real moves to destabilise the North's economy risks regional instability that could trigger market crashes, capital flight and an overnight loss of regional confidence. It is really hard to see how the South ends up better off after this." Telegraph