UNESCO threatens to drop Qadisha Valley from World Heritage List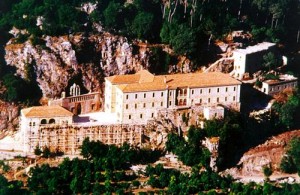 The Qadisha Valley, is under the threat of removal from UNESCO's World Heritage List.
An Nahar newspaper reported that the violations in the valley in the north led the UNESCO's World Heritage Center to warn Lebanon that it would put the area which is on the World Heritage List in Danger which is the first step in dropping it from the list.
According to An Nahar violations, such as picnics, restaurants and other building projects in the area, are tarnishing the valley's image and are behind UNESCO's threats.
The Qadisha Valley's many natural caves have been used as shelters and for burials back as far as the Palaeolithic period. The Aassi Hauqqa (cave) in particular, near Hawqa, Lebanon, has yielded archaeological items indicating Palaeolithic, Roman, and medieval periods of use.
Since the early centuries of Christianity the Holy Valley has served as a refuge for those in search of solitude. Historians believe that the Qadisha Valley has had monastic communities continuously since the earliest years of Christianity.
Early Christian sects fleeing persecution found refuge in the Qadisha. Among these groups were the Jacobites (Syrian Orthodox), Melchites (Greek Orthodox), Nestorians, Armenians, and even Ethiopians. The Maronites, however, are the dominant Christian group in the valley. From the late 7th century, Maronites fled to the valley from their original areas of settlement in the Levante. At that time, they feared persecution from the Jacobites, who were non-Chalcedonian, and who persecuted Chalcedonian Maronites, and from Islamic attacks. Maronite settlement intensified in the 10th century following the destruction of the Monastery of St Maron. The Maronite monks established their new center at Qannubin, in the heart of the Qadisha, and monasteries quickly spread over the surrounding hills.
The Mameluk sultans led campaigns in 1268 and 1283, respectively, against the fortress-caves, monasteries, and the surrounding villages. Despite these attacks, the Deir Qannubin monastery was to become the seat of the Maronite Patriarch in the 15th century and to remain so for 500 years. The first printing press in the middle east was built in 1610 at the Monastery of Qozhaya in the Kadisha valley. It used Syriac characters. Also this printing press was the first to print in Arabic language.
Lebanon's Culture Minister Salim Warde sent letters to President Michel Suleiman and Maronite Patriarch Nasrallah Sfeir asking for assistance to find a solution to the "Valley of the Saints."