March 14 official: Assad implied renewed Syria's control over Lebanon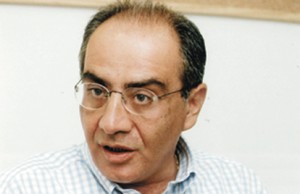 March 14 forces general-secretariat coordinator Fares Souaid considered on Wednesday Syrian President Bashar al-Assad's recent statements to As Safir newspaper as "interesting and worrying" in regards to Lebanese-Syrian relations.
He told the Central News Agency that it is interesting that Assad would make his statements to a Lebanese newspaper and then have them published on its front page.
In addition, he noted that Assad chose to express his views to the Lebanese people through a newspaper and not through official channels that should be set up between the two countries.
Souaid wondered: "Would it have been possible for Lebanese President Michel Suleiman or Prime Minister Saad Hariri to directly address the local Syrian situation through a Syrian newspaper? And if so, would Syria have considered that as meddling in its affairs?"
What's worrying, continued Souaid, was Assad's implication that Lebanon has once again been placed in Syria's care with Saudi Arabia's blessing and general Arab and international approval, therefore, sending a message to the Lebanese people that Syria is restoring its hegemony over Lebanon.
It is as if the country has returned to where it was before 2004, before the extension of former President Emile Lahoud's term, when Syria used to have a say in every development in Lebanon, added Souaid.
He asked if Assad's statements "serve joint Lebanese-Syrian interests and pave the way for a new phase that we all wanted to be focused on establishing diplomatic relations between the two countries and resolving pending issues between them."
Addressing Hariri's Arab tour, Souaid said: "His visit is aimed at gathering Arab positions in ahead of his visit to the United States seeing as Lebanon is currently temporarily heading the U.N. Security Council and therefore, it is only logical that it represent the position of all Arabs."
Hariri's visit to Syria, therefore, is part of that mission to garner Arab stands, and it has no other agenda, he added.
Returning to Assad's statements to As Safir, Souaid commented on the Syrian president's references to some Lebanese who consider themselves Phoenicians, and not Arabs.
Souaid said: "The Syrian president was so kind as to give us a history lesson on the origins of the Phoenicians, which is an indirect accusation against the Lebanese Christians."
The Christians have long played major cultural and national roles in the region and "his insistence on giving them history and geography lessons will not help in resolving the trust issues he has with them," concluded Souaid. Naharnet