12 charged in mob lynching of Egyptian suspect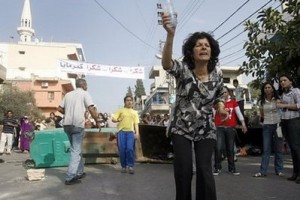 Twelve residents of Ketermaya, an Iqleem Al Kharroub town in Mount Lebanon, were charged on Wednesday for the mob lynching of an Egyptian murder suspect .
The prosecutor in Mount Lebanon charged eight detainees and four fugitives with "beating, stabbing and lynching" Mohammed Mosallam in Ketermaya, southeast of the capital Beirut, on April 29.
Mosallem,38, who was the main suspect in last month's Ketermaya murder that left four dead, was attacked and killed by town residents while he was reenacting the crime for security forces.
DNA tests confirmed that Mosallam was the killer, but the cabinet decided to pursue his killers.
National News Agency said Mosallam shot to death Youssef Abu Merhi, 75, and his wife Kawthar, 70, along with their grand children Zeina, 7, and Amneh, 9.
Jumblatt
MP Walid Jumblatt called last week for the resignation of Mount Lebanon Prosecutor and the liable security officials in wake of the mob lynching of the suspect in Ketermaya's quadruple murder.
In an editorial to be published last week in the al-Anbaa weekly, the Progressive Socialist Party leader said: "All the field security officials, their superiors, and the prosecutor of Mount Lebanon should resign or be fired from their posts." He added : "This should be the minimum requirement."
Photo: A Lebanese woman shouts during a protest against the arrest of some residents allegedly involved in the lynching of an Egyptian man, in the village of Ketermaya