Moussa: Arabs, International community will support Lebanon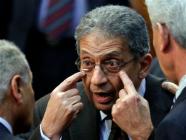 Arab League Secretary General Amr Moussa who arrived in Beirut on Wednesdaytold reporters at Beirut airport that there will always be Israeli threats against Lebanon. However, Arabs and the international community always support the country against any possible breach of its sovereignty, he added.
When asked about Israeli military drills, the Arab League secretary-general said: "There are always Israeli exercises and threats to Lebanon. I know the cautious Lebanese feeling toward continuous negative Israeli policies."
Moussa l also voiced hope that the nuclear swap agreement signed by Iran on Monday with Brazil and Turkey would be a starting point to reach peace in the Middle East.
Moussa said on Tuesday that the purpose of his Beirut visit is to attend the 18th Arab Economic Forum, which is set for May 20 and 21 and which will be held under the patronage of PM Saad Hariri.
Around 600 participants from 25 states will participate in the conference, including a high-ranking delegation from Saudi Arabia's public and private sectors.