Lebanon PM in Syria for talks with Assad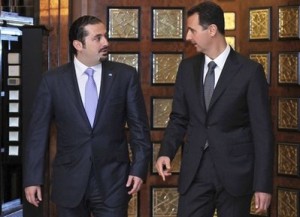 Lebanese Prime Minister Saad Hariri headed to Damascus Tuesday after welcoming Kuwaiti Emir Sheikh Sabah al-Ahmed al-Jaber al-Sabah at Beirut international airport.
Hariri arrived in Damascus after midday and went straight to People's Palace for talks with Syrian president Bashar al Assad.
Discussions have reportedly focused on the latest regional developments and bilateral relations between the two countries.
The meeting was followed by a working lunch hosted by Assad in Hariri's honor.
Yesterday Hariri was in Saudi Arabia.
After Damascus, Hariri is expected to complete his Middle East tour with a visit to Turkey.
An-Nahar daily said Hariri's tour "emerged as a result of the very dangerous situation the region is going through, which requires responsibility on the part of the international community."
"Hariri should better go to Washington equipped with a supportive Arab-Turkish stance toward Lebanon regarding the need for U.S. pressure on Israel to revoke its threat of war and engage in peace," An-Nahar had quoted a source as saying.
Hariri is due in Washington on May 24 to meet with US president Barack Obama.