West dismisses Iran nuclear deal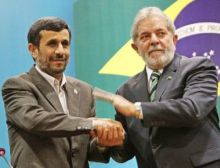 European Union and British officials have said that a nuclear fuel swap deal agreed by Iran, Turkey and Brazil might not be enough to stop the US-led push for tougher sanctions against Tehran.
A spokeswoman for Catherine Ashton, the EU foreign policy chief, welcomed the deal on Monday, but said that the bloc still had "serious concerns" about Iran's nuclear programme.
The agreement, brokered by Brazil and Turkey, calls for Iran to ship 1.2 tonnes of low-enriched uranium to Turkey, in exchange for 120kg of highly-enriched nuclear fuel rods for its power plant, according to official media.
Under the deal, signed on Monday, the swap would be carried out under the oversight of the UN's International Atomic Energy Agency (IAEA) and Iran would be allowed to send inspectors to Turkey to monitor the exchange.
The two men who helped negotiate the exchange plan – Recep Tayyip Erdogan, Turkey's prime minister, and Lula Inacio da Silva, Brazil's president – have both said that there are now no grounds for new sanctions against Iran.
"My expectation is that after this declaration there will not be a need for sanctions," Erdogan told reporters in Baku, Azerbaijan.
'Fundamental problem'
But the EU said that the move did not address the concerns of itself and the United States about whether Iran's nuclear programme was aimed at building nuclear weapons.
"If Iran has now accepted the IAEA proposal, this is welcome, but it does not solve the fundamental problem, which is that the international community has serious concerns about the peaceful intention of the Iranian nuclear programme," Maja Kocijancic, the EU spokeswoman, said.
Herman Van Rompuy, the president of the EU, said earlier on Monday that Europe is "very concerned" about the programme.
Alistair Burt, Britain's junior foreign secretary, said that work must continue on a new sanctions package.
"Iran's actions remain a serious cause for concern, in particular its refusal to meet for discussions of its nuclear programme, or co-operate fully with the IAEA, and its decision to start enriching low enriched uranium to 20 per cent," he said in a statement issued by the foreign ministry.
Bernard Kouchner, the French foreign minister, said he would wait to react to the deal until after the IAEA has offered its opinion. The IAEA has not yet commented on the proposal, nor has the US government.
The agreement aims to ease Western concerns over Iran's nuclear programme, and stave off a fourth round of sanctionsbeing pushed by the US and its allies. Aljazeera