Lebanon PM meets Saudi Crown Prince in Riyadh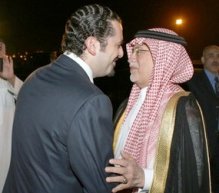 Lebanese Prime Minister Saad Hariri met on Monday in Riyadh with Saudi Crown Prince Sultan Bin Abdel Aziz to discuss cooperation between their countries as well as important regional and international developments, the Saudi Press Agency (SPA) reported.
Hariri is being accompanied by former MP Bassem al Sabaa and advisers Naderl Hariri and Hani Hammoud.
Hariri traveled to Saudi Arabia as part of an Arab tour ahead of his scheduled meeting at the White House with US President Barack Obama on May 24.
Hariri is expected to travel Tuesday to Damascus
Photo: Saudi Minister of Information and Culture Abdul Aziz Khoja, right, welcomes Lebanese Prime Minister Saad Hariri upon his arrival in Riyadh, Saudi Arabia, Sunday, May 16, 2010