STL to file charges in Hariri Case by End of 2010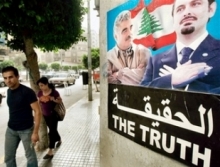 Special Tribunal for Lebanon(STL) Prosecutor Daniel Bellemare plans to file charges in the assassination case of Lebanon's former PM Rafik Hariri by the end of the year, STL President Antonio Cassese said.
"Prosecutor Bellemare announced that he is likely to issue an indictment between and September and December of this year," Cassese told The Daily Star. "This is what he said … This is my expectation."
Cassese said he did not have any information about the potential perpetrators or details of Bellemare's probe.
"I have no idea, because we are very strict … The prosecutor does not tell anything [about the investigation] to anybody within the tribunal," Cassese told the interviewer.