Killer of ex-Iranian PM could be freed in France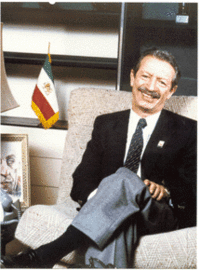 France's interior minister signed an order on Monday paving the way for the possible release of a man convicted of assassinating former Iranian Prime Minister Shahpour Bakhtiar.
A Paris court is set to rule Tuesday on Ali Vakili Rad's release from prison where he has been serving a life sentence since 1994 for the strangling and stabbing death of Bakhtiar, then 76. Judges already have said they favor a conditional release as long as an expulsion order comes through.
Interior Minister Brice Hortefeux signed the expulsion order Monday, a source in the ministry said on condition of anonymity because he was not authorized to discuss the case.
The order came just one day after Clotilde Reiss, a young French academic, who had battled charges of spying in Iran for more than 10 months, returned to France. French authorities have denied a link between the two cases.
Over the weekend, Iranian authorities commuted Reiss's 10-year jail term to a fine of 3 billion rials ($300,000). Once her lawyer paid, she was freed and allowed to return home.
The Reiss case had poisoned relations between France and Iran, already tense over France's tough stand on Iran's nuclear program.
A special French terrorism court convicted Vakili Rad and his aide, Souroush Katibeh, of assassinating Bakhtiar. Vakili Rad was sentenced to life in prison with the possibility of seeking conditional freedom.
The killings occurred at Bakhtiar's home in the western Paris suburb of Suresnes. Two other Iranians were convicted for logistical roles in the killings, and two other alleged killers were never caught. Prosecutors contended the assassination was a plot by Iran's clerical regime.
Bakhtiar was the last prime minister under Shah Mohammed Reza Pahlavi, who was toppled in the 1979 Islamic revolution.
Hezbollah connection
Hours after the assassination of Shahpour Bakhtiar on August 7, 1991 , a British hostage who was held by Hezbollah was released in Lebanon but a French hostage was taken. John McCarthy was Britain's longest-held hostage in Lebanon, having spent over five years in captivity until his release on August 8, 1991.