1,000 flights affected in Europe due to volcanic ash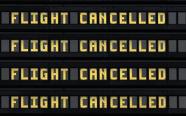 Flight restrictions affecting London's two major international airports — Heathrow and Gatwick — were lifted Monday after a no-fly zone had been imposed due to dense volcanic ash drifting down from Iceland.
Restrictions remained in place in Amsterdam, Northern Ireland and smaller airports on Scottish islands, but charts published by Europe's air traffic control agency said the ash cloud should be gradually breaking up and retreating during the day.
Eurocontrol said 28,000 flights were expected Monday in Europe, about 1,000 less than normal, mainly due to disruptions in Britain and the Netherlands.
Heathrow and Gatwick were operating with delays. Gatwick said it was not accepting any arrivals until early afternoon, but flights were departing. Authorities at Heathrow said arrivals were returning to normal but warned departing passengers to expect delays and advised them to check with their airline before heading to the airport.
Amsterdam's Schiphol Airport, another of Europe's biggest air travel hubs, had to cancel some 500 flights due to the ash cloud, stranding about 60,000 passengers, spokeswoman Antoinette Spaans said.
Schiphol was to remain closed until early Monday afternoon, but by noon passengers had begun checking in for their flights.
In Ireland, Dublin's international airport was to reopen at noon Monday (1100 GMT, 7 a.m. EDT). All other airports in the Irish republic were open, with the exception of Donegal, in the country's northwest, which was to reopen later Monday.
Naviair, which manages Denmark's airspace, said airspace over the North Sea was closed until midnight GMT, forcing airplanes to fly around it, and Faeroe Islands airports were closed.
Germany sent up two test flights Sunday to measure the ash cloud. There was no word yet on the results of those tests.
Germany's air traffic control agency said Monday the latest ash cloud should not affect flights over the country.
"At this time, the concentration of ash above German air space is so low that there are no reductions in air traffic," German Air Traffic Controllers said. "Based on information from the German Weather Service, there is no expected reduction in flight traffic until further notice."
Ash can clog jet engines. The April 14 eruption at Iceland's Eyjafjallajokul volcano forced most countries in northern Europe to shut their airspace between April 15-20, grounding more than 100,000 flights and an estimated 10 million travelers worldwide. The shutdown cost airlines more than $2 billion.
In southern Iceland, there were "no major changes" in activity at the volcano, the Icelandic weather service said late Sunday. It said the ash plume was higher than in previous days because of calm weather.
It said "presently there are no indications that the eruption is about to end."
Airlines complained bitterly over the air space closures last month, calling them an overreaction. The European air safety agency last week proposed drastically narrowing the continent's no-fly zone because of volcanic ash to one similar to that used in the U.S. The proposal still must be approved.
Eurostar, which runs trains between Britain and continental Europe, added four extra trains Monday — an additional 3,500 seats — between London and Paris.
Eyjafjallajokul (pronounced ay-yah-FYAH-lah-yer-kuhl) erupted in April for the first time in nearly two centuries. During its last eruption, starting in 1821, its emissions rumbled on for two years.AP