Jumblatt: Remember May 17 !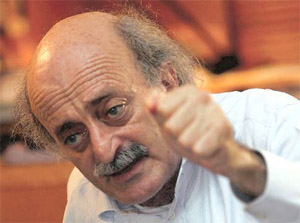 In an editorial to be published Tuesday by al Anbaa weekly , Progressive Socialist Party leader MP Walid Jumblatt urged that people remember the date of May 17 "that caused Lebanon tragedies" and proved that Lebanon taking independent decisions in confronting Israel "is destructive and should not be repeated."
The 1983 May 17 Agreement was a U.S. backed attempt to create peace between Lebanon and Israel during the Lebanese Civil War, after Israel invaded Lebanon and besieged Beirut in 1982. The country was under both Israeli and Syrian military occupations during its negotiation.
Jumblatt praised the importance of Prime Minister Saad Hariri's Arab tour as it "comes at a critical time in aligning political tracks between Lebanon and Syria."
Jumblatt said: "Our national and strategic interests necessitate affirming this choice, especially in light of recent suspicious calls demanding that Lebanon maintain neutrality in the region."
"Neutrality is impossible due to historic and geographic factors, and also because of the Taef Accord that spoke of special ties with Syria," the MP added.
Jumblatt whose father was assassinated by the Syrians in 1977 made overtures to Syria, visited Damascus twice and met with Syrian president Bashar al Assad .
Prior to his Syrian visit which was coordinated by Hezbollah chief Sayyed Hassan Nasrallah Jumblatt called on Assad to turn the page on the past, admitting that he had in a moment of anger said inappropriate things "inappropriate and unreasonable remarks about President Assad at a time of internal tensions and extreme division within Lebanon, " he told Al Jazeera