Euro may be heading to parity with Dollar!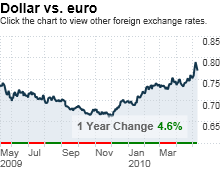 The euro pared earlier losses after European stocks staged a turnaround and moved higher.
The European currency had plummeted to a four-year low Monday morning as ongoing debt concerns prompted a flight to the safety of the U.S. dollar.
The dollar rose 0.1% against the euro to $1.2347. Earlier, the euro crashed through the key technical level of $1.23, falling to a four-year low of $1.2234.
The dollar rose 0.5% versus the British pound to $1.4467. It was up 0.1% against the Japanese yen at ¥92.53.
European stocks turned higher in afternoon trading. With about an hour left in the session, France's CAC 40 was up 0.2%, Germany's DAX gained 1% and Britain's FTSE 100 was 0.6% higher.
What's moving the market: As last week wore on, the euro came under pressure from investors considering a nearly $1 trillion European rescue package and lingering problems in the zone.
On Friday, the shared currency began breaking through key technical levels, which accelerated the sell-off. The euro fell to $1.2359, the lowest level since November 2008.
Meanwhile, other European countries announced austerity plans to avoid issues seen in debt-choked Greece, which sought a bailout and saw its sovereign debt downgraded to junk status.
Late last week, Portugal's government outlined a plan to cut its budget deficit including 5% pay cuts for politicians and public-sector staff leaders. Spain said it planned to cut civil service wages by 5% in 2010 and freeze them in 2011.
Investors are worried the wave of massive cuts could stifle any fragile economic growth in the euro zone.
What analysts are saying: "There is absolutely no support to the euro," said Ashraf Laidi, chief market analyst at CMC Markets.
He noted there were rumors on Friday that France's debt would also be downgraded, which if true would further weaken the euro.
"There is no new reason out there, from the U.S. front, to be worried about the dollar," Laidi said. "In any case, when there is risk aversion, people tend to sell the euro and buy the dollar."
The technical sell-offs could continue accelerating, Laidi said, with the euro falling as low as $1.17, $1.10 or even parity with the dollar. CNN