Crude oil drops below $70/ barrel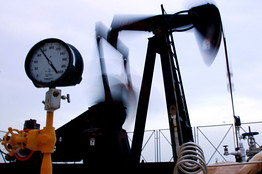 Crude futures dropped as doubts about future oil demand sent prices to a 2010 low.
Light, sweet crude for June delivery traded $1.83, or 2.6%, lower at $69.78 a barrel on the New York Mercantile Exchange after dropping to $69.27 a barrel, the cheapest the front-month contract has traded since December. Brent crude on the ICE futures exchange traded $2.54, or 3.3%, lower at $75.39 a barrel.
Investors have ratcheted back their expectations for the global economic recovery this month as high debt levels in Greece, Portugal and Spain threaten to undermine European economic growth. The European Union and International Monetary Fund are planning a bailout for Greece, but many remain skeptical that the crisis is over.
"There's some doubts about whether the Greek bailout is really going to work and if markets are really going to buy it," said Rick Mueller, director of oil markets at Energy Security Analysis Inc., a consultancy in Wakefield, Mass. "There's more pain to come there."
Europe's debt troubles have undermined support for the euro, with the currency hitting a four-month low against the dollar of $1.2234 early Monday and trading recently at $1.2314. A stronger dollar makes oil more expensive to buy using other currencies, and oil prices often respond to big shifts in the greenback's value.
Front-month oil futures have seen bigger losses than most other markets tied to economic growth, such as equities.
The oil market is counting on a robust global recovery to use up surplus crude and fuel put in storage during the downturn. While demand is up from a year ago in the U.S., the world's biggest oil consumer, crude inventories have also hit a record high at Cushing, Okla., where the barrels traded on Nymex are delivered.
The Cushing glut has created an incentive not to hold contracts for near-term delivery, and June futures are now trading at a steep discount to oil not traded in markets connected to Cushing.
"The broader oil market as measured by Brent performed no worse than the broader financial markets," wrote analysts with Goldman Sachs Group Inc. "Weakness in (Nymex futures) is the result of idiosyncratic issues in Cushing."
Supplies often tighten during the summer, when U.S. gasoline demand typically peaks. Demand is already up slightly from last year, though U.S. economic indicators continue to point to an uneven recovery. The Federal Reserve Bank of New York reported that business conditions for New York manufacturers brightened for a 10th straight month in May. The index of 19.1 represented slower growth than the 31.86 reading in April, however.
Front-month June reformulated gasoline blendstock, or RBOB, recently traded 7.07 cents, or 3.3%, lower at $2.0601 a gallon. June heating oil traded 6.39 cents, or 3.1%, lower at $1.9967 a gallon. WSJ