Kuwaiti Emir arrives in Syria for talks with Assad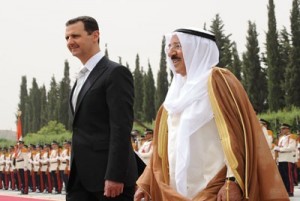 The Emir of Kuwait, Sabah Al-Ahmad Al-Jaber Al-Sabah arrived at Damascus airport and was welcomed by Syrian president Bashar al Assad and several Syrian officals. Following a brief stop at the VIP lounge they headed to the People's palace in Damascus for talks .
The Kuwaiti Emir is schedules to head to Lebanon on Tuesday after a stop in the Jordanian capital Amman .
The visit to Lebanon will be the final leg of an Arab tour that started in Egypt.
His visit to Lebanon is aimed at reinforcing the strong relations between the two Arab countries. Kuwait was always a supporter of peace and stability in Lebanon. It headed the committee that was established according to an Arab League resolution in 1988 to unite all Lebanese groups. The Kuwaiti and Arab efforts were able to reach in 1989 Taef Agreement which had a positive effect on Lebanon's security, stability, and development.
During the Arab Economic Summit that was held in Kuwait in January 2009, Lebanese President Michel Suleiman expressed great gratitude to Kuwait's government and people, saying they always supported his country's causes and made efforts to bring about Arab unity and stress joint Arab action.
Lebanon's Prime Minister Saad Al-Hariri, during an official visit to Kuwait in March, hailed the efforts of His Highness the Amir in stressing Arab solidarity and joint action, saying Arab conciliation began during the 2009 Arab summit in Kuwait. Kuwait is a friend of all Arabs, he emphasized.