Geagea: Enough wars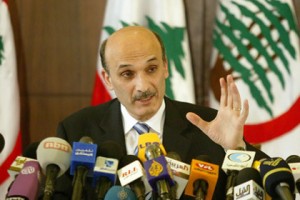 In a speech broadcast on a screen during a dinner held by the LF student authority, Lebanese Forces leader Samir Geagea said Lebanon would be "safe" if the country's strategic defense decisions were made by the government.
"The more the strategic defense decision is in the hand of the government, the more Lebanon is safe," Geagea said .
The country would be at a great risk when decisions of war and peace are not made by the government, he said. Geagea is referring to the Hezbollah war with Israel in 2006 which was triggered by the kidnapping of 2 Israeli soldiers . The war resulted in the killing of over 1200 Lebanese , mostly civilians and in the devastation of Lebanon's infrastructure
"Enough wars," he said, adding it was time for the Lebanese to "get rid of this infernal cycle."
Geagea said the situation in the country was "critical" and conditions in the south "were unstable."
March 14
The LF leader said the March 14 coalition's objective is to achieve a stable Lebanon.
March 14 "is a national need. I say it with all conscience and clarity that if the March 14 (alliance) wasn't able to succeed, Lebanon could disappear," he said.