US signals unease over Russian-Syrian civilian nuclear talks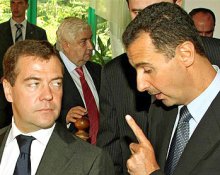 The United States signaled unease Wednesday with Russia-Syria nuclear talks, saying countries looking at energy cooperation with Damascus should be aware of Syrian shortcomings on nuclear matters.
"What concerns us is … Syria has not answered questions that have been raised about its compliance with the NPT," the nuclear Non-Proliferation Treaty, State Department spokesman Philip Crowley told reporters.
"And all countries that contemplate energy cooperation need to take that into account," Crowley said when asked about Russian-Syrian civilian nuclear talks.
During a visit to Damascus on Tuesday, Russian President Dmitry Medvedev voiced Moscow's readiness to build a nuclear power station in Syria as it has long been doing in Iran, Syria's main regional ally.
The use of nuclear energy "can get a second wind" in Syria, Medvedev said, without elaborating.
AFP