Obama to meet with Lebanon's premier on May24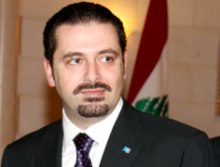 President Barack Obama will meet Lebanon's Prime Minister Saad Hariri at the White House May 24 during his first official visit to Washington, according to the president's spokesman.
Hariri's visit comes amid regional tensions over Israeli charges that Syria is supplying the Lebanese Hezbollah with more sophisticated missiles, and as Washington seeks to isolate Iran, a key Hezbollah ally.
The White House on Wednesday noted that Obama would be receiving Hariri at a time when Lebanon holds the presidency of the UN Security Council, where the United States has been pressing for tougher sanctions against Iran over its nuclear program.
"The prime minister's visit is a symbol of the close and historic relationship between Lebanon and the United States," White House press secretary Robert Gibbs said in a statement.
"This will be the prime minister's first official visit to Washington during his premiership and the president looks forward to consulting with Prime Minister Hariri on a broad range of mutual goals in support of Lebanon's sovereignty and independence, and regional peace and security," he said.
Hariri is the son of slain ex-premier Rafiq Hariri, whose 2005 assassination was blamed on Syria, once the main powerbroker in Lebanon.
Hariri has moved to heal the rift with Damascus at the same time that the Obama administration also has sought greater engagement with the Syrians, announcing plans to send its first ambassador to Damascus since 2001.
But tensions flared up last month after Israel accused Damascus of arming Hezbollah with longer range missiles.
US Secretary of State Hillary Clinton warned Syrian President Bashar al-Assad against supplying Hezbollah with long-range Scud missiles, warning his decisions "could mean war or peace for the region.