Spanish FM: Israel seeking to ease tension with Lebanon, Syria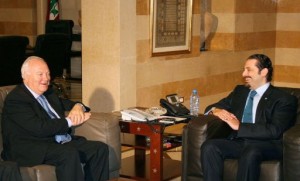 Spanish foreign minister said on Thursday that Israel is trying to ease tension with Syria and Lebanon, the after Israeli charges that Damascus was smuggling Scud missiles to its Lebanese ally Hezbollah.
Miguel Angel Moratinos told reporters in Beirut following his meeting with Lebanon's PM Saad Hariri: "Israeli authorities asked me to convey a message to Syria and Lebanon, which is that they seek to ease tension, and they expressed their willingness for negotiations,"
Israeli President Shimon Peres accused Syria of supplying the Shiite Hezbollah movement with Scud missiles, a charge Damascus has staunchly denied.
Hezbollah on the other hand, which is backed by Syria and Iran, has refused to confirm or deny the charge.
Moratinos ended a Middle East tour that included Israel, the Palestinian territories, Syria and Lebanon, saying from the Lebanese capital that Israel had "no desire at all to heighten tension".
"I am returning to Spain with a positive feeling that all … parties, all countries want to move towards peace," said the minister, whose government currently holds the EU presidency.
"Israeli authorities are committed to seeing indirect negotiations with the Palestinians succeed and the Palestinians expressed the same commitment."
Moratinos also said Syria had "a strong desire for peace and for the continuous search through negotiation for a diplomatic solution to any dispute with Israel".