Russian President urged Hamas to release Shalit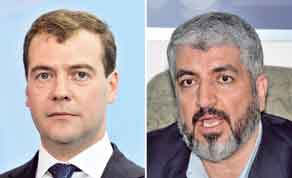 The president of Russia has called for Gilad Shalit, the Israeli soldier held by the Islamist movement Hamas, to be freed "as soon as possible".
President Dmitry Medvedev made the call while meeting Hamas leaders in Damascus, Syria, his spokeswoman said.
Hamas leader Khaled Meshaal reportedly said they would only consider releasing the soldier when Israel resumed talks to free Palestinian prisoners.
Shalit, 23, was captured in a raid into Israel by militants in 2006.
Talks to free the soldier in return for a number of Palestinian prisoners broke down last year.
Russia is the only country that has direct dialogue with Hamas, the Islamist movement that runs the Gaza Strip.
Hamas want hundreds of Palestinians held by Israel, including senior militant leaders that Israel holds responsible for the deaths of dozens of Israeli citizens, to be freed in exchange for Sgt Shalit's release.
'Catastrophe'
Earlier, President Medvedev said the Middle East needed to rid itself of nuclear weapons to help avoid potential regional and global catastrophe.
He spoke after talks with Syrian President Bashar al-Assad as the two countries signed bilateral agreements.
Mr Medvedev is the first Russian head of state to visit Syria in decades.
"Tensions in the Middle East threaten to lead to a new explosion or even a catastrophe," he told AP news agency.
Moscow is making a diplomatic push to ease antagonism between Israel and Syria.
Syria is under investigation by the International Atomic Energy Agency for having a suspected nuclear site.
The site was destroyed by Israeli warplanes in 2007, although Damascus strenuously denied the claims, saying the site was a conventional military complex.
Israel, in turn, has never officially admitted having nuclear weapons, but is widely believed to have a significant arsenal.
Iran sanctions
Egypt is leading non-aligned nations in a push to convene a conference next year on turning the Middle East into nuclear weapon-free region.
Mr Medvedev also urged Iran to cooperate with the international community over its controversial nuclear program.
He has indicated that Russia could support new UN Security Council sanctions against Iran over its atomic program..
The US and some European countries accuse Iran of trying to develop atomic weapons, a charge Tehran denies.
During his visit to Syria, Mr Medvedev signed a series of bilateral agreements with President Assad, aimed at boosting co-operation in tourism, communications, information technology and scientific research.
He then traveled to Ankara, where Turkey and Russia are expected to sign a series of energy co-operation agreements.
"The Russian president urged solving the problem of releasing Israeli citizen Gilad Shalit as soon as possible," spokeswoman Natalya Timakova said. BBC