UNIFIL: No evidence of Hezbollah Scuds in south Lebanon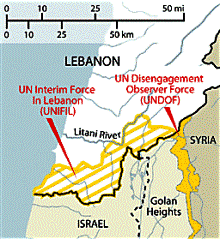 UNIFIL Major General Alberto Asarta Cuevas was quoted by An-Nahar newspaper as saying."We have no evidence of any Scud missiles in UNIFIL's area of operations" in southern Lebanon.
"These missiles are large and difficult to hide," he added.
Israeli President Shimon Peres accused in April Syria of supplying Hezbollah with long-range Scud missiles, a charge Damascus staunchly denied.
US Secretary of State Hillary Clinton warned Syrian President Bashar al-Assad about the risks of triggering a regional war if he supplied Hezbollah with the missiles.
Yesterday Israeli head of the Military Intelligence's (MI) research department Brig.-Gen. Yossi Baidatz reportedly said on Tuesday, "Weapons are transferred to Hezbollah on a regular basis and this transfer is organized by the Syrian and Iranian regimes. Therefore, it should not be called smuggling of arms to Lebanon – it is organized and official transfer." He claimed that "the transfer of long-range missiles that was recently published is only the tip of the iceberg, " Israeli newspapers reported