U.S. renews Syria sanctions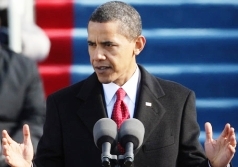 US President Barack Obama on Monday renewed sanctions against Syria for a year, accusing Damascus of supporting terrorist groups and pursuing missile programs and weapons of mass destruction.
There had been no expectation that Mr. Obama was ready to lift the measures, but the renewal comes at a delicate time in relations between the United States and Syria, despite efforts by the administration to return an ambassador to Damascus.
The United States also recently expressed concerns after Israel accused Syria of arming Hezbollah in Lebanon with increasingly sophisticated rockets and missiles, which the United States says undermine stability in the region.
Mr. Obama said in a message to Congress renewing the sanctions, first imposed by President George W. Bush in 2004, that the Syrian government had made "some progress" in suppressing the infiltration of foreign fighters into Iraq. NYT
But he added that Syria's "continuing support for terrorist organizations and pursuit of weapons of mass destruction and missile programs, continue to pose an unusual and extraordinary threat to the national security, foreign policy and economy of the United States."