IAEA chief: Iran, North Korea and Syria not cooperating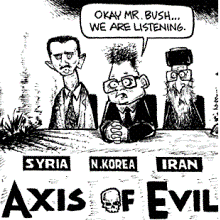 UN International Atomic Energy Agency (IAEA) Director General Yukiya Amano here Monday singled out the Democratic People's Republic of Korea (DPRK), Iran and Syria as three regions that have not provided the necessary " cooperation" towards achieving a nuclear-weapon-free world.
"In the case of Iran, the Agency continues to verify the non- diversion of declared nuclear material, but remains unable to confirm that all nuclear material is in peaceful activities because Iran has not provided the necessary cooperation," Amano said at the opening of the conference to review the Nuclear Non- Proliferation Treaty (NPT).
Amano urged Iran to take relevant steps towards the implementation of the Comprehensive Safeguards Agreement, as well as additional resolutions of the UN Security Council.
It is crucial for Iran to "clarify activities with a possible military dimension," he said.
With the DPRK, Amano noted that because the region has not allowed the Agency to implement safeguards since 2002, the IAEA " cannot draw any safeguards conclusion for the DPRK."
From April 2009, the DPRK has "cased all cooperation with the IAEA" pursuant to the Six-Party Talks, which groups the DPRK, China, Russia, the United States, the Republic of Korea and Japan.
On Syria, he said, "I continue to request Syria to engage with the Agency on all outstanding issues," and "Syria has not cooperated with the Agency since June 2008 in this regard."
Amano said a successful NPT Review Conference is "indispensable " where it will "enhance confidence in the non-proliferation regime" and allow the IAEA to have a stronger foundation in their work in all areas.
istockanalyst