Car used in New York bomb plot was bought on internet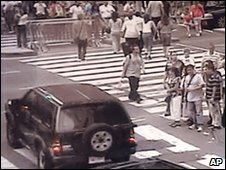 A green Nissan car used for Saturday's botched Times Square bombing was sold through an advertisement on the popular website Craigslist for between $1,300 and $1,800 in cash three weeks ago, investigators have established.
The sports utility vehicle's registered owner told police that he offloaded the 1993 car to a Middle Eastern or Hispanic looking man aged around 29 or 30, although formal paperwork for the transaction was never completed.
CBS News reported last night that the buyer of the vehicle paid for it in $100 bills. The keys were exchanged in a brief meeting at a Connecticut shopping centre between two strangers. Licence plates on the car were stolen from a truck at a junk yard, also in Connecticut.
Investigators increasingly believe that the crude car bomb, which failed to detonate, was the work of a plot involving multiple people and that it may have had international links. New York's police commissioner, Ray Kelly, admitted the city had been lucky to escape disaster.
"If it [the bomb] had detonated, it's my judgment that it would have caused casualties, there would have been a significant fireball," said Kelly. "I'm told the vehicle itself would have at least been cut in half."
The car, parked in the heart of Manhattan's theatre district, was packed with propane gas, petrol and fireworks strung together with a rudimentary timer operated by a pair of cheap alarm clocks.
Two T-shirt vendors raised the alarm when they noticed the car had been abandoned with its hazard lights flashing and its keys in the ignition, and police swiftly evacuated the area.
Police travelled by helicopter to Pennsylvania to visit a tourist who took a brief video image of a man running north up Broadway at around the time of the bombing. They also want to track down a white man, aged around 40, who was captured on closed circuit television removing a sweatshirt in Shubert Alley, a pedestrianised cut-through, near the scene.
Releasing a 20-second video clip, Kelly said the man appeared to be acting "furtively".
Saturday's incident was at least the 11th foiled terrorist plot in the US since the 9/11 attacks. One theory is that the target of the Times Square bomb was the media group Viacom, whose headquarters are nearby.
The US company caused controversy by broadcasting on its Comedy Central network an episode of the cartoon South Park which poked fun at Islamic sensitivity over images of the prophet Muhammad by showing him dressed in a bear suit.
"It's out there as one theory," said Janet Napolitano, secretary of US homeland security. But she added that it was "speculation" at this stage.
Bruce Hoffman, a professor of security studies at Georgetown University in Washington, said car bombs had been unusual in the US in recent years, with the bombing of an Oklahoma City government building in 1995 being the last successful large-scale attack of its type.
"We haven't had a vehicular bomb in the US for quite some time, although they're not a new thing," said Hoffman. "Puerto Rican independence groups used them back in the 1960s and 1970s."
On Sunday, a group called Tehrik-e-Taliban Pakistan (TTP) claimed responsibility for the Times Square bomb, posting a video on the internet alleging that the attack was to avenge recent killings by US drone aircraft along the Afghan border.
But yesterday a spokesman for the group disowned the video, while experts said TTP has previously declared responsibility for events it had nothing to do with.
"These types of messages aren't directed towards an audience in the US as much as to a local audience," said Hoffman. "Whether truthful or not, they serve the group's own propaganda purposes."
Times Square was shut down for 10 hours following the discovery of the bomb at 6.30pm local time on Saturday. Detectives took to the stage at the end of Broadway musicals to ask for witnesses to any suspicious activity. Thousands of tourists were prevented from returning to their hotels in the densely crowded district.
On Monday, Times Square was returning to normal with hotdog stalls back in place, traffic squeezing through narrow gaps and almost every street reopened. Guardian