New York bomb suspect called 'weird' by neighbors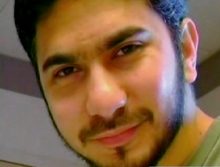 The man at the center of the botched Times Square car bomb plot was known in his neighborhood as a mysterious loner who kept odd hours and "always looked on edge," neighbors said Tuesday.
"I thought he might be connected to to terrorism – a lot of us did because he acted strangely," said Dashawn LeBelle, who lives near Faisal Shahzad in Bridgeport, Conn. "But we didn't call police. We should have called."
"He would be carrying in boxes in the middle of the night. He always looked on edge," said LeBelle, who added that he often wore Islamic garb.
"We knew something weird was going on."
Shahzad, a 30-year-old Pakistani-American, was in custody Tuesday after he was pulled off a Dubai-bound flight at JFK Airport.
Shahzad recently traveled to Pakistan, where he reportedly spent time in Karachi and Peshawar, an area known as a haven for Islamic militants, officials said.
A married father of two small children, Shahzad moved to Bridgeport, Conn., with his wife, Huma Mian, last year.
"He was a very smart guy, very kind, but you could sort of tell he was hiding something," said Lorenzo Patel, 32. "He had family but it's like he was going places alone and keeping odd hours, not like a father should.
"That house gave me a bad feeling."
Born in Karachi, Shahzad moved to the United States in 1998 after getting a student visa, sources said.
Shahzad, whose father was a member of the Pakistani Air Force, studied at now-shuttered Southeastern University in Washington, D.C., before transferring to the University of Bridgeport, where he graduated in 2000 with a degree in computer applications and information systems.
He returned to the school and earned an MBA in 2005.
"I remember him as being quiet but very intelligent and diligent," said one professor, who declined to give his name.
After graduating, Shahzad was granted a work visa.
He got married in 2008 and became a naturalized citizen on April 17, 2009.
Before moving to Bridgeport, Shahzad lived in a two-story colonial home in Shelton, Conn.
He purchased the house in 2004 and took out a $218,400 mortgage. But the house went into foreclosure last year.
That wasn't the end of his money woes. Shahzad also was sued last year by Hoffman Fuel for $793.14, records show.
Neighbor Brenda Thurman, 37, said Shahzad dressed nicely and claimed to work on Wall Street.
Thurman said she spoke sporadically with Shahzad and that it took three years for the wife to admit she too spoke English.
"They seemed a little strange but not to the point of this," Thurman said.
Thurman added that he left the family's home every morning, wearing a shirt and tie.
"Other than that he didn't come out much," Thurman said. He said he didn't like daylight. When he came out at night he was always in black, full length dress. He would go jogging like that. I thought it was strange."