Abbas: Mosque arson 'threatens' peace renewal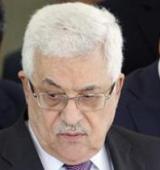 Palestinian Authority president Mahmud Abbas on Tuesday blamed Jewish extremist settlers for a fire that gutted a West Bank mosque, saying it threatened US-brokered efforts to revive the peace process.
"President Abbas condemns the burning of the mosque in Lubban ash-Sharqiya by extremist settlers and said the responsibility for this criminal attack lies with the Israeli government because the Israeli army protects the settlers," his office said in a statement.
"This criminal attack threatens efforts to revive the peace process."
Israeli officials said earlier they were working with Palestinian investigators to establish the cause of the fire, but Palestinian officials insisted the case was one of arson.
"We have been investigating the burning of the mosque and at the end we found that settlers were behind this crime," said Ghassan Paghlas, a Palestinian official who monitors illegal Jewish settler activity in the northern West Bank
"We have informed president Abbas and he is very angry because of this new crime by settlers, and he gave orders to rebuild the mosque immediately," Paghlas said.
The town of Lubban Ash-Sharqiya, where the mosque is located, lies close to three illegal Jewish settlements.
The Israeli army said an investigation was under way.
"Security forces together with the police and a joint Israeli-Palestinian team are looking into who is responsible for the fire," a spokeswoman said, insisting that the army considered such incidents "very serious".
Palestinian officials said Israel had warned them on Monday about the possibility of an attack by local Jewish settlers angered by the Israeli army's demolition of six partially-built illegal structures in Shavei Shomron settlement near Nablus.
"We had an official warning yesterday that settlers may try to attack Palestinian homes because of the demolition of houses built without a permit" in a settlement, Nablus governor Jibril al-Bakri said.
Jewish settlers have declared a "price-tag" policy, under which they have targeted Palestinians or their property in retaliation for any Israeli government measure they see as threatening settlements.
On April 14, a mosque in Huwara near Nablus was desecrated with Hebrew graffiti and a Star of David scrawled over the walls.
In December, settlers vandalised another mosque in the northern West Bank village of Yasuf, torching Muslim holy books and spraying hate messages in Hebrew. The incident triggered clashes between villagers and Israeli troops.
Israel brands few settlements as illegal but under international law all Jewish settlements – including the ones approved by the Israeli government – are illegal because they are built on occupied Palestinian territories.middle-east-online.