UN urges nuclear disarmament commitment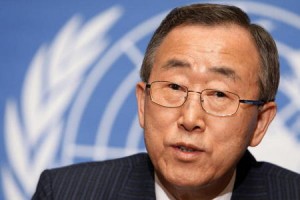 The UN secretary-general has called on nuclear weapons states to reaffirm their commitment to disarm at a meeting to review efforts to halt their spread.
Ban Ki-moon told delegates from the 189 signatories of the Nuclear Non-Proliferation Treaty (NPT) a "failure to do so would be a step backward".
He also urged Iran to comply with UN resolutions on its nuclear program.
Iran's president later accused Western powers of unfairly denying developing nations access to nuclear technology.
"None of the non-nuclear weapon states has ever been able to exercise their inalienable and legal right to develop the use of nuclear energy without facing threats," Mahmoud Ahmadinejad said.
His comments prompted the representatives of the US, UK and France to walk out of the chamber.
The permanent members of the UN Security Council plus Germany are currently discussing further sanctions against Iran for refusing to stop enriching uranium, which can be used in making nuclear bombs.
Tehran insists its nuclear program is entirely peaceful.
'Unequivocal undertaking'
BBC Diplomatic correspondent Jonathan Marcus says the NPT is the central element of international efforts to halt the spread of nuclear weapons.
It comprises a kind of bargain, in which those countries who had nuclear weapons when signing the treaty in 1970 – the US, the former Soviet Union, China, the UK and France – agreed eventually to disarm, our correspondent says.
All other treaty signatories agreed never to develop nuclear weapons in return for receiving full access to civilian nuclear technology.
But, our correspondent says, this grand bargain is looking increasingly threadbare, with critics arguing that the original nuclear weapons states have not taken their disarmament responsibilities seriously.
North Korea has simply walked away from the NPT to develop its own nuclear deterrent, while Iran is thought by many to be going as far as it can towards a nuclear weapons capability whilst remaining inside the treaty, he adds.
Two nuclear weapons states – India and Pakistan – along with Israel, which has an unacknowledged nuclear arsenal, are not signatories.
In his speech, Mr Ban urged nuclear weapons states to "reaffirm the 'unequivocal undertaking' to eliminate nuclear weapons".
"Failure to do so would be a step backward," he said. "It is time to translate this commitment into action."
He also appealed to those states outside the NPT to do so "as soon as possible".
"Pending their accession, there is a need for measures to ensure the safety and security of those countries' arsenals and technology. Nuclear materials must not be acquired by non-state actors and terrorists."
Mr Ban later called on Iran to "fully comply" with the UN resolutions on its nuclear program and to co-operate with the International Atomic Energy Agency to reassure the world about its intentions.
"I encourage the president of Iran to engage constructively. Let us be clear – the onus is on Iran to clarify the doubts and concerns about its program."
'Plan of action'
Libran Cabactulan, the Philippine diplomat who is president of this year's month-long review, has said the main aim of many signatories to the NPT is to press nuclear power to move more rapidly toward disarmament.
The Non-Aligned Movement has submitted to a detailed "plan of action" for moving toward global nuclear disarmament by 2030. It includes full ratification of the 1996 Comprehensive Test Ban Treaty.
Participants say they have been encouraged by US President Barack Obama's commitment to tackle nuclear issues.
He has spoken of his aspiration for a nuclear weapons-free world and recently signed a major arms reduction treaty with Russia. He has also pledged to push for US ratification of the CTBT, which was rejected by the Senate in 1999.
Our correspondent says Mr Obama and his supporters want to see an NPT review that tightens the rules while reinforcing the essential bargain contained within it. BBC