March 14 crticizes Aoun's statement about Suleiman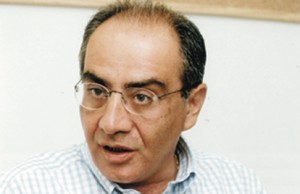 Former Lebanese MP and March 14 General Secretariat Coordinator Fares Soueid said during an interview with MTV on Tuesday that he rejects Free Patriotic Movement leader MP Michel Aoun's attempt to make President Michel Suleiman look like he is interfering in May's municipal elections.
Soueid was responding to Aoun's statement yesterday when he told OTV that Suleiman should stop political officials from putting pressure on candidates, particularly those running in Jbeil.
Soueid described Lebanese-Syrian relations as unhealthy and calling for their rectification.
This is not the first time that Suleiman is being subjected to accusations and attacks by the pro-Syrian alliance.
Last March 17 , Former minister Wiam Wahab a staunch ally of Syria attacked President Michel Suleiman and called on him to resign for allegedly failing to govern the country.
Following talks with Free Patriotic Movement leader Michel Aoun in Rabiyeh, Wahab said the president should resign "because after two years of rule we feel like we are in the last days of the presidency."
Many accused Aoun of being behind Wahab's attack against Suleiman but Aoun denied any involvement.