Egyptian FM: The scud missile story is a big lie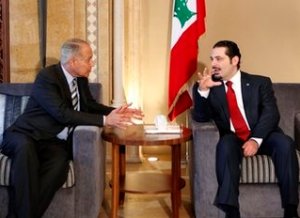 Egyptian Foreign Affairs Minister Ahmed Aboul Gheit who is currently visiting Lebanon called reports that Syria supplied Hezbollah with Scud missiles a "big lie" and described the charge as "sheer provocation".
He made the statement following his meeting with Prime Minister Saad Hariri on Saturday and added
"Whoever is knowledgeable about such missiles knows that they cannot be hidden and that they require extensive preparation to set them up," Aboul Gheit said.
In an interview with As-Safir newspaper published on Saturday, UNIFIL Commander General Alberto Asarta Cuevas said there is no evidence of the presence of missiles in the areas where UNIFIL operates in the South.
Aboul Gheit said the aim of his visit to Lebanon is to meet with Lebanese officials and express support for the country in light of sensitive conditions.
On Egyptian-Syrian relations, the FM said that Syrian President Bashar al-Assad is always welcome in Cairo. He said the visit will take place soon, but it has not yet been scheduled.
Asked if he fears that a war may erupt in the region, he replied: "Israel is making a lot of strong statements that we should monitor and analyze," adding that any development should be dealt with accordingly.
Besides Hariri, Aboul Gheit is expected to hold talks with Speaker Nabih Berri and Foreign Minister Ali al-Shami during his one-day visit to Lebanon.