Abbas: No Palestinian state with temporary borders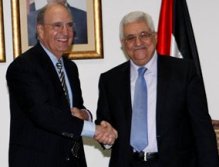 Palestinian President Mahmoud Abbas said Saturday he rejects the establishment of a Palestinian state in temporary borders, in an apparent response to media reports that Israel is trying to revive the proposal.
Instead, Israel and the Palestinians should resume serious negotiations on the terms of full Palestinian statehood, Abbas said, adding that such talks should wrap up within two years.
Israel and the Palestinians remain far apart on the framework for such talks, and U.S. Mideast envoy George Mitchell returned to the region on Friday for a new push to narrow the differences.
The U.S. has proposed indirect talks in which Mitchell would shuttle between Israeli and Palestinian leaders. However, the Palestinians say they won't engage unless Israel agrees not to start new housing projects for Jews in traditionally Arab east Jerusalem, claimed by the Palestinians as a capital. Israeli Prime Minister Benjamin Netanyahu has repeatedly rejected a building freeze in east Jerusalem.
Earlier this week, an Israeli daily reported that Netanyahu has floated the idea of a temporary state as a way of breaking the impasse.
Such a proposal is also part of the U.S.-backed "road map" peace plan as an interim step toward full independence. The temporary state would only be established on parts of the territory the Palestinians want for their state. However, the road map never got off the ground and the Palestinians have repeatedly rejected provisional statehood, fearing the temporary borders would become the final ones.
"We won't accept a state with temporary borders," Abbas told leaders of his Fatah movement Saturday.
U.S. Secretary of State Hillary Rodham Clinton also brushed aside the notion when asked about it Friday. "So there's a lot of ideas that have been floated around, but at the end of the day it's only the Israelis and Palestinians who can make decisions for themselves," she said. AP