Netanyahu again rejected US calls to halt construction in occupied East Jerusalem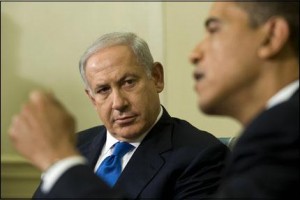 Israeli PM Benjamin Netanyahu has again rejected US calls to halt construction in occupied East Jerusalem.
He was speaking as US Middle East envoy George Mitchell arrived in the region to try to revive Israeli-Palestinian peace talks.
It is his first visit since a row broke out between Israel and the US over home construction plans in East Jerusalem.
Meanwhile, the UN said it could not educate thousands of Palestinian pupils because of Israel's blockade of Gaza.
The head of the UN agency for Palestinian refugees, John Ging, said the blockade made it impossible to build new schools to accommodate the growing numbers of students.
Israel imposed the siege after the militant Hamas movement seized control over the Gaza Strip in 2007.
'Status quo unsustainable'
"I am saying one thing: there will be no freeze in Jerusalem," Mr Netanyahu said on Israel's Channel 2 TV.
"There should be no preconditions to talks [with the Palestinians]," the Israeli premier added.
However, he added that he hoped to resolve the differences with Washington, without giving any further details.
Mr Mitchell is expected to begin a round of separate meeting with Israeli and Palestinian officials on Friday.
The Wall Street Journal quoted unnamed US officials on Thursday as saying that Mr Netanyahu offered a series of measures to boost Palestinian confidence, such as easing the blockade on Gaza, releasing prisoners, freezing the building project in Ramat Shlomo for two years, and agreeing to discuss borders and the status of Jerusalem.
In Washington, state department spokesman Philip Crowley said: "We understand that the Israelis have a long-standing position."
But he added that the "status quo is not sustainable".
In March, during a visit by US Vice-President Joe Biden, it was revealed that the Israeli government was planning to build 1,600 apartments in the Orthodox Jewish neighbourhood of Ramat Shlomo.
Palestinians then walked away from the "proximity talks", or indirect negotiations with the Israelis, which Mr Mitchell had been attempting to arrange.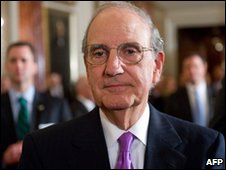 The row put a strain on relations between Israel and the US, and Mr Mitchell's planned visit in March was postponed.
Obama's peace plan?
Meanwhile, Martin Indyk, former US ambassador to Israel – said to be close to Mr Mitchell – earlier this week wrote in the New York Times that Mr Netanyahu faced a choice between taking on the US president, or the right-wing of his own coalition.
Mr Netanyahu has said that no other Israeli prime minister in the past 46 years has been asked to stop building in Jerusalem, which would be unacceptable to his political allies.
But Mr Indyk said Mr Netanyahu's government had failed to notice a shift in US perceptions, which increasingly viewed progress on the Israeli-Palestinian conflict as connected with the US's wider security interests.
"With 200,000 American troops committed to two wars in the greater Middle East and the US president leading a major international effort to block Iran's nuclear programme, resolving the Israeli-Palestinian conflict has become a US strategic imperative," he wrote.
There has been speculation in the past two weeks, based on unnamed senior US officials quoted in the Washington Post, that the Obama administration is considering proposing its own peace plan if the two sides fail to resume negotiations.
Talks between the two parties broke down after the Israeli campaign in the Gaza Strip in January 2010 at the end of 2008.
Israel has occupied East Jerusalem since 1967. It annexed the area in 1981 and sees it as its exclusive domain.
Under international law the area is occupied territory and the international community does not recognise Israel's annexation of East Jerusalem.
Palestinians want East Jerusalem as the capital of a future state. BBC