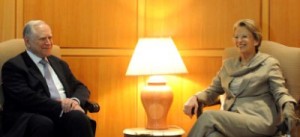 French Justice Minister Michele Alliot-Marie arrived in Beirut on a two-day visit during which she will meet with a number of officials.
On the eve of her visit, she said that it is "imperative" that the Special Tribunal for Lebanon "fulfills its mission."
She stressed in an interview published Friday by An-Nahar newspaper that France condemns Israeli violations in Lebanon.
"France denounces all violations of Resolution 1701, including Israeli overflights over Lebanese territory and the supply of arms to Hezbollah," Alliot-Marie said.
Photo: French Justice Minister Michele Alliot-Marie during her meeting with Lebanese Justice Minister Ibrahim Najjar