U.S. ruled out a military strike against Iran anytime soon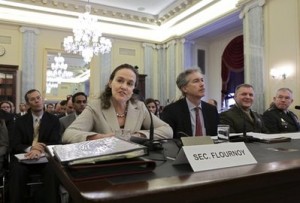 For the time being, at least, everyone can take a deep breath. A senior defense official says the U.S. has ruled out a military strike against Iran anytime soon.
A Pentagon spokesman says the U.S. military is confident it could protect the U.S. from an Iranian missile strike, if and when Tehran develops long-range weapons. Also, Iran has proposed variations on a deal in which its capacity to make a nuclear bomb might be curbed.
The calm may not last long. Iran is ready to hold large-scale maneuvers in the strategic Strait of Hormuz. But President Barack Obama seems determined to reduce tensions with Iran. Now it's up to Iran to take the cue or not.
The latest glimmers of hope in the tense standoff with Iran came Wednesday.
In Singapore, Michele Flournoy, the undersecretary of defense for policy, publicly ruled out a military strike on Iran at least for now. Instead, she is putting the emphasis on negotiations and U.N. sanctions to keep Iran from developing nuclear weapons.
"Military force is an option of last resort," she told reporters. "It's off the table in the near term."
In Washington, meanwhile, Pentagon press secretary Geoff Morrell offered assurances that the U.S. defense system based in California and Alaska was "sufficient to protect us" if Iran developed a missile capable of striking the United States, something it may have the hardware to do by 2015.
And in Tehran, Iran suggested variations on a U.N.-backed plan that offers nuclear fuel rods to Iran in exchange for Iran's stock of lower-level enriched uranium. It's not clear what Iran is suggesting yet, but the swap is intended to curb Tehran's ability to make a nuclear bomb.
Iranian Foreign Minister Manouchehr Mottaki said Tuesday a fuel agreement could boost trust with the West.
Nothing may come of the offer. Then again, it could be a basis for negotiations while Iran slowly progresses with its nuclear program, one it insists is designed for medical and other civilian purposes.
Amid these developments, though, tensions intensified between the United States and Syria.
The top U.S. diplomat for the region, Jeffrey Feltman, told the House Foreign Affairs Committee on Wednesday that the U.S. has warned Damascus several times in recent weeks that transferring Scud missiles to Lebanon's Hezbollah militia could lead to a war in the Middle East.
While Feltman did not confirm reports Syria had sent Scuds to Hezbollah, he said providing such weapons to the militia would be "an incendiary, provocative action" that could affect war and peace in the region.
Israel and Hezbollah fought a 34-day war in 2006 against Israel that left some 1,200 Lebanese and 160 Israelis dead.
Photo: From left, Undersecretary of Defense for Policy Michele Flournoy, Undersecretary of State for Political Affairs William Burns, Joint Chiefs Vice Chairman Marine Gen. James Cartwright, and Lt. Gen. Ronald Burgess, head of the Defense Intelligence Agency, prepare to testify on Capitol Hill in Washington, Wednesday, April 14, 2010, before the Senate Armed Services Committee hearing on U.S. policy toward Iran's nuclear program. (AP Photo/J. Scott Applewhite)